Events
Launch Event
Broadhaven Bay Hotel - Belmullet - Co. Mayo (Eire)
Friday 25th November 2005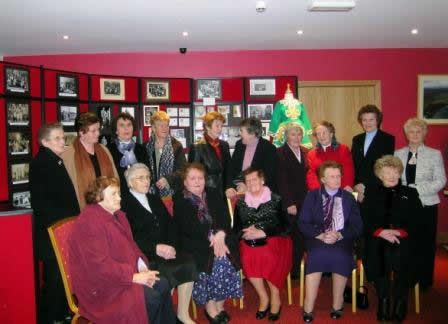 Fís na Muingi-Iorras Committee extend their sincere gratitude to all those whose help, talents, support and sponsorship combined to make our launch at the Broadhaven Bay Hotel on Friday, 25th November, such an enjoyable success.
Our thanks to the Broadhaven Bay Hotel, in particular, David their Manager and his staff for the unstinting kindness, and professionalism that was central to our success.
A big thanks to our special guests, those who worked in the Erris lace schools during the 40's and 50's, who braved a cold and blustery night to be present, bravo! A huge thanks to the friends of the committee who honoured us with a beautiful exhibition of their Irish crochet lace heritage, Beatrice Gibbons, Sheila Reilly, Agnes Togher, Anne Walsh, Annette O'Toole, Mary Bradley, lace teacher, for lovely crochet samples from the Ballycroy Women's Group; Sadie Lavelle for her lovely knitwear, the junior cert students from Our Lady's Secondary School and St Brendan's College for the variety of their beautifully made craftwork. Further thanks to the friends who sold tickets and helped us in any way they could, we warmly embrace you. We thank everybody who bought tickets and all who attended our launch from near and far.
We must not forget the ongoing and very important help extended to us by Rose Walsh at Iorras Le Cheile and also Tom Bohan. Grateful thanks to the Burke family for their contributions to the inspiring and nostalgic photo displays, also to Mary Meenaghan, Kathleen Barrett, Nora Conway and John Martin Lally for their generous photo input. Our thanks and appreciation to Rosa Meehan from the National Museum of Ireland/Country Life whose very interesting talk with slides stirred old memories of days gone by.
Kiera Ruddy, who qualified for the World Championship that takes place in April in Belfast, danced superbly for us, thank you Kiera, we wish you every success. Thanks also to the wonderful set dancers from Erris. Where would we have been without the great performances from local musicians? Tony Cawley, Austin Barrett, Jimmy Deane, Martin Harrington, Brian and Maeve Gallagher, thanks for making it a great night. We were also deeply honoured to have renowned musicians, Dan Healy and Mick Shannon from Dublin and Sligo play for us.
And now for our most talented emcee, Fr Francis Judge for bringing it all together with such consummate ease, for his injection of infections fun, a huge round of applause!
We have to mention Helen Keane (though she would rather we didn't) for her excellent interfacing with sponsors on our behalf. We were overwhelmed by the generosity of our sponsors and we thank them most profusely.